Female Choral Enseble "EMMELEIA"
It was first founded in October 2003 aiming to introduce the choral singing at the members of society, who do not know music, regardless of age.The first recommendation of the Board consisted of 40 female members, who worked for an exemplary year in order to gain a sense of choral act.

The "Emmelia" held its first concert in the auditorium of Holy Transfiguration at Nafpaktos,with works of traditional music, receiving excellent reviews.In April 2005 "Emmelia" took part in the National Choir Competition, organized by X. O. N., P.Faliro, at the University of Piraeus, where it received in its category, a Gold Medal and the first prize, and an honorary award of UNESCO.


In Patras, "Emmelia" already has given many concerts participating: in celebration of International day of family, the celebration of World No Smoking Day, together with the Byzantine Choir of our Organization, artistic works and traditional music in ''Konstantopoulio Foundation'' for its inmates, but also in Christmas concerts and festive events from the organizations who have been invited.In 2007, the choir participated not only at a series of concerts provided for social purposes, but in addition, "Emmelia" took part in the National Competition of Choirs of X.O.N. at Eugenides Foundation in Athens (04/29/1907), which took the first prize in its category. Furthermore, it organized a Christmas concert in Papacharalabeios hall of Nafpaktos, in collaboration with the Philharmonic orchestra of the city. In 2009 the choir took part with great success at the Concert for ''SOPSY'' at the Conference and Cultural Center of the University of Patras, at the 12th International Choir Festival ALTA PUSTERIA [23.6-1.7.09], the Italian Tyrol [Northern Italy], and participates in the 25th International Choir Festival OTE Thessaloniki [6-8.11.09]. In early 2010 "Emmelia" took part in the Conference invited the Medical Society of Western Greece and the Neurological Clinic of the University Hospital of Patras.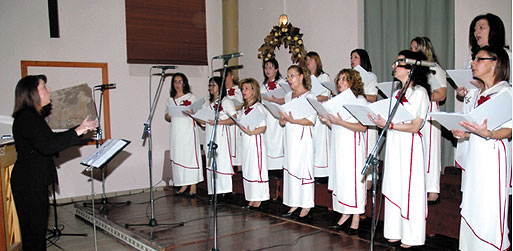 Through all these years, Dimitra Pitsou, Mania Asimakopoulou, Katerina Polymenakou and Stamatis Lekkas have provided their services as conductors of "Emmeleia" and so did the pianists Marina Mylona and Albena Penkova. As for today, the choir's conductor is Albena Penkova and pianist is Aretousa Nikolopoulou.
| | | |
| --- | --- | --- |
| PIANIST | | CONDUCTOR |
| ARETOUSA NIKOLOPOULOU | | ALBENA PENKOVA |